About Trane Francks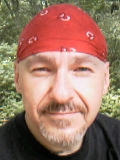 For over 30 years, I have explored energy-based healing techniques. In 2006, I began studying Quantum-Touch basic- (Level 1). Subsequently, I took advanced (Supercharging, Core Transformation I and Core Transformation II) techniques and felt a strong resonance with the modality. Since then, Quantum-Touch has become a staple of my work, with special emphasis on Core Transformation, which is no longer taught. I am a Certified Quantum-Touch Level 1 Practitioner and Instructor, having taught Quantum-Touch in Japan, USA and Croatia.
I augment my sensitivity to energy through regular meditation, qigong sessions and studying internal martial arts.
Living Intentionally offers clients hands-on and distant Quantum-Touch and healing QiGong sessions, chakra clearing/charging and etheric field balancing. All services are offered in English and Japanese.
Healing sessions are available by appointment. Please contact me for details by e-mail. NOTE REGARDING THE COVID-19 PANDEMIC: Until further notice, I am not taking in-person, hands-on healing sessions. At the present time, I am only available for distant healing sessions. Sessions can be independent, i.e., client offline during the healing session, or online together with me over Skype or Zoom calls.
Please be aware of our no-warranty/no-refunds policy. For further information, please see our Terms Of Use.
Feel free to contact Living Intentionally using the form below: