What is "living intentionally"?
Living intentionally is a way of thinking, a way of life, whereby a person takes full responsibility for their own well-being. Such a person lives in a state of purpose, of intention. When one takes responsibility for their own well-being, he/she no longer feels helpless to create a life that is rich with opportunity, health, happiness and abundance.
As a company, Living Intentionally strives to help people take control of the life they live. I teach a multi-faceted approach to well-being, focusing on lifestyle, exercise, nutrition and developing "right-mindedness". Right-mindedness is a combination of how we think and how we are able to Be in the moment. Being can be cultivated through a meditation practice. The combination creates a strong synergy that enables one to very literally create the life one wishes to live.
Energy Healing
Within the realm of energy healing, Living Intentionally draws upon almost 30 years of experience in QiGong, Quantum-Touch®, etheric field balancing and my very own style of chakra clearing/charging.
Lifestyle
I believe that lifestyle factors have a huge impact on our ability to regulate our life experience. At our workshops, people learn to put into practice lifestyle enhancements that drive them toward ultimate well-being.
Right-mindedness
As Mike Dooley likes to say, "Thoughts become things." Living Intentionally enjoys helping people discover how their thoughts create the reality they experience in day-to-day living. The more aware we become of how our thoughts affect our experience, the more we can direct our thinking to create the life we want.
Focused application of intention, lifestyle, nutrition, meditation and energy healing creates a strong foundation upon which we birth a new reality. The consequences of this path are far-reaching. Many sources talk only of manifesting wealth and material abundance, but it goes far beyond that. We can fix our relationships. We can fix our health. We can find abundance in absolutely every area of life. In essence, we can literally master our life and, in doing so, achieve true joy.
Living Intentionally came into being on December 27, 2008. The company operates out of Tokyo, Japan.
About Trane Francks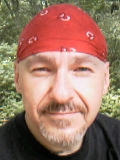 For nearly 30 years, Trane has explored energy-based healing techniques, developing his own methods of clearing/charging chakras and etheric field balancing. In 2006, he began studying Quantum-Touch basic- (Level 1) and advanced (Supercharging, Core Transformation I and Core Transformation II) techniques and felt a strong resonance with the modality. Since then, Quantum-Touch has become a staple of his work. He is a Certified Quantum-Touch Level 1 Practitioner and Instructor, having taught Quantum-Touch in Japan, USA and Croatia.
He augments his sensitivity to energy through regular meditation, qigong sessions and studying internal martial arts.
Trane offers clients hands-on and distant Quantum-Touch and healing QiGong sessions, chakra clearing/charging and etheric field balancing. All services are offered in English and Japanese.
He is happy to teach Quantum-Touch throughout Japan and offers distant healing services anywhere in the world. Hands-on healing sessions are available in the greater metropolitan Tokyo area by appointment. Please contact Trane for details by e-mail or by telephone: +81-90-6467-0022.
Please be aware of our no-warranty/no-refunds policy. For further information, please see our Terms Of Use.
Feel free to contact Living Intentionally using the form below: