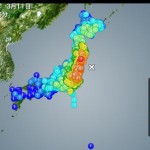 As some of you know, Living Intentionally is located in Japan. Japan has just experienced its biggest earthquake in recorded history. Things are rather complicated here.
I was far from the epicentre when the earthquake struck, so I was in no immediate danger. As I was right at Shimizu Port in Shizuoka City, however, the danger from a potential tsunami was very real. We got to high ground at Kusanagi and watched the news for any information. The information was spotty at first, and that posed real concerns.
Cell phone service was badly disrupted, so contacting my kids was difficult. Eventually, word came that the girls were fine, but my son's location wasn't known. The relief felt upon finding him was profound.
The next 24 hours was all about getting to Tokyo to be with/take care of family. Now that I'm here, the concern is for us all to not be exposed to radiation. Apparently, there's been an explosion at one of the Fukushima nuclear reactors. The government and TEPCO are being both quiet and contradictory about the state of things. As such, I can only assume the worst.
About all I can do at this point is to ensure that my family eats sufficient kelp to build iodine stores in the body and hope that all the preparation is for nothing. I'd appreciate you keeping a kind thought for us. The tsunami wiped entire towns and villages off the planet. Thousands are missing and it's only going to get worse.
Wow. Just wow.