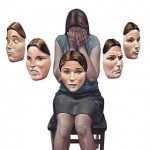 Back in January, Time Magazine published an article called New Ways to Think About Grief in which they described expression of emotion (versus repression) a myth in terms of recovering from grief.
I spent a bit of time mulling this over and my studies of hypnotherapy have me strongly disagreeing with the idea that holding it in is better. I do agree with the article in that merely talking about stuff doesn't really help. Healing involves going beyond merely expressing something; it involves seeing the trauma in a new way.
I'd like to take a moment to burst some of my own myths. 🙂
Myth #1: Real Men Don't Cry
This is a cultural tenet of Western society. It's tempting to see men as being disconnected from their emotions, but the reality is quite different. Men feel things just as deeply as women, but whereas women are encouraged and expected to display their emotions, men are taught to suck it up and hold them in.
I've seen the "teaching" of this emotional repression countless times as parents admonish a crying boy that he's "alright" and has "nothing to cry about". The gall of such a supposition is frightening to me, as it shows the real emotional disconnection to be between the parent and child. Unfortunately, the message that the child receives is, "My feelings are not valid and my expression of them is undesirable".
What a horrible thing to teach a child. Children should be encouraged to experience and release their feelings. As they grow older, they can then be led to express their feelings in constructive fashion. Obviously, this requires that the parent understands the processes involved. (More about those processes later.)
Myth #2: Anger Is Bad
A lot of us have had the concept of anger being bad hammered into us for years. As such, when we experience something that triggers anger within us, our ability to express and process it in a healthful way is neutered. Anger in and of itself isn't bad. What is bad is anger that is carelessly directed and/or unleashed in a hurtful manner.
Myth #3: Children Should Be Seen And Not Heard
Oh, boy. What intolerant parent thought up this one? It's amazing how many parents may not outwardly support this idea, but who all the same encourage kids to keep quiet, stay in their rooms and not "disturb" the peace of the family. Encouraging solitary quiet as the mainstay of a child's upbringing only encourages said child to feel isolated.
It's little wonder that so many kids feel misunderstood. If a kid isn't encouraged to discuss what's on his or her mind, how the heck is anyone supposed to understand what's going on in there? It's only when people have meaningful dialogue that understanding can happen.
The Path To Healing Is Twofold
Emotional healing is a two-stage affair. The first stage involves the immediate expression of feeling. (Note the use of the word feeling rather than emotion.) The second stage involves learning to perceive the trauma in a new way. Without one or the other, healing will be slow and/or incomplete.
The expression of pain, anger and/or grief in the immediacy of feeling it is of paramount importance. This is raw and unprocessed feeling, prior to our logical processing via thought. (Remember, emotion is feeling that has been processed by thought.) This gives voice to our experience and validates that experience as being both real and significant.
As I've written about before, while we should be encouraged to express ourselves, we also have a responsibility to not lash out. To that end, it's incumbent upon us to ensure that whenever we experience anger, we do not lash out at others. While we should feel free to express our feelings, we ultimately have the responsibility to ensure that others are not injured in any way through the expression of those feelings.
The principle expression of feeling can go a long, long way to reducing the emotional footprint of the experience after the fact. By giving voice to what we experience, we very literally open our safety valve and reduce our emotional pressure. Subsequently, the memory of the trauma is reduced. Moreover, the perspective of the trauma itself is shifted. Because the initial pain was expressed and not repressed, the remaining pain is greatly reduced. Breaking down subsequent to a significant fight-or-flight response is a natural reaction in humans. It is to be encouraged and nurtured as a part of being a well-balanced individual. Even in dogs, the "shaking it off" after a fight is exactly the kind of Stage 1 expression that I'm writing about here. Dogs express their nervousness, fear, etc. in near-real time. Humans should learn to do the same.
The second expression of emotional healing involves learning to see the trauma from a fresh perspective. This stage is the very hallmark of hypnotherapy and Neuro-linguistic Programming (NLP). If we have been unable to express Stage 1 feelings in a timely fashion, the ability for us to see our trauma from a fresh perspective (without help) is greatly diminished.
Seeing trauma from a non-traumatic perspective is an important part in all manner of emotional healing. Forgiveness, anger, terror and grief are all examples of areas where learning to shift our perception of the causal event can bring about sudden and complete healing. It can resolve all manner of issues, including addiction and alcoholism caused through feeling lack of self-esteem and self-worth.
Talk therapy is intended to encourage such a fresh perspective and it can be hugely helpful. Unfortunately, talk therapy tends to come into play long after the trauma has set in, and with the absence of any meaningful expression of feeling upon the occurrence of the initial event, healing is slow. Talk therapy can take years for the repetition to find its way past the critical factor and reprogram the subconscious to see the trauma in a new, non-traumatic way.
With the healthful expression of our initial feelings, however, the ability for an individual to process his or her residual emotions in a healthy manner are well and truly in place. After all, did cavemen have group therapy sessions? Maybe so, but I tend to think not. Human beings evolved to process their fight-or-flight experiences efficiently and without much need for outside intervention or assistance. A well-timed hug, kiss and a, "Boy, you're sure lucky that sabre-tooth tiger grabbed Bork instead of you," went a long way to getting our healthy survivor over the experience and on to enjoy another day. It might have been unfortunate for Bork, but our happy survivor of the tiger assault gained the ability to see his survival from a place of gratitude. And having screamed and flailed in abject terror at the time of the attack, he was emotionally well-placed to see the attack as nothing personal and just a fact of life.
The example is somewhat tongue in cheek, I agree, but the premise remains valid: When we learn to view our trauma from a new way, we can disarm the emotional charge and move forward through the rest of our healing in relative ease.
The good news is that even when you've been denied the ability to express your initial feeling, you have the capacity to help yourself through the second stage even on your own. The trick is that you have to want to get past your anger, guilt, fear or other burden. You have to be willing to see the events in a new way. The latter is especially important, as without a willingness to see an event in a new way, e.g., incest, it's virtually impossible to move outside the realm of triggered fight-or-flight response and forward to forgiveness and understanding.
In my articles that discuss shenpa, I have often written of cultivating the observer. This aspect of being aware of your thoughts can be a huge help in assisting us on our path toward seeing that new perspective and aligning with it. As we recognize our triggers, we can become in control of them and guide our reactions and, therefore, thoughts toward healing instead of being trapped in the purgatory of trauma.
Love to you all,
trane