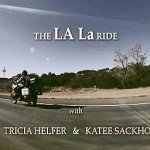 What do actors Tricia Helfer and Katee Sackhoff have in common? Aside from co-starring in Battlestar Galactica, both love to ride and both have a penchant to use their fame to good purpose. Since meeting, the pair put together a charitable foundation called Acting Outlaws.
In Oct 2010, the two set off on a journey from LA to Louisiana to help bring awareness to the plight of the Gulf region after the BP oil disaster. They filmed their journey and made a documentary of it. For fans — theirs, of riding, and especially of the Gulf waters and its fragile ecosystem — the film is a charming and essential insight.
Two things come to mind here: First, the cost of the film is a mere US$4.99. Second, a portion of the proceeds from the documentary go towards charitable donations. This is all good. Quoting from their site:
On October 22nd, 2010, actresses Katee Sackhoff and Tricia Helfer embarked on a cross-country motorcycle ride taking them 2,500 miles from Los Angeles, CA to New Orleans, LA to raise awareness for the BP Oil Spill Disaster in the Gulf.
Titled 'The LA La Ride', it was the very first under the Acting Outlaws brand — a charity company started by Katee and Tricia to raise money and awareness for various charities and causes. Joining them on this trip was a film crew who documented the entire event. This footage was edited together to create a documentary film which follows these two as they ride from city to city, raising awareness and experiencing an adventure unlike any other.
The documentary is available now for purchase from the Acting Outlaws store.
The full film can be purchased here: http://store.actingoutlaws.org/videos/acting-outlaws-video/