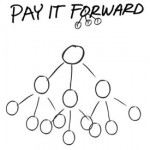 On Facebook, David's Second Annual Pay It Forward Day is being promoted. I think it's a great idea, so I'm offering a little something for my readers!
The first person to post a comment to this article here on the site will receive a free, 30-minute energy healing session. The same offer applies to the first person to comment on the link to this article on my Living Intentionally or Trane Francks Facebook accounts.
That makes a total of three free sessions up for grabs. On your mark, get set, comment!