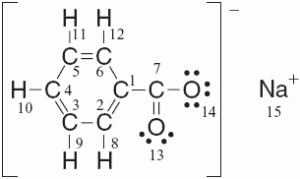 You've probably seen sodium benzoate listed in the ingredients of many foods. These days, it's pretty much in everything because it's used as a preservative in carbonated drinks, fruit juices, processed foods, salad dressings, condiments, pickles, cough syrup and even some vitamins.
The troubling aspect of this is that sodium benzoate can be extremely hazardous to your health, especially when mixed with Vitamin C. So, although sodium benzoate, AKA E211, is commonly thought of as a safe food additive, it really is anything but.
One of the more disturbing effects that sodium benzoate can have is that it shuts down vital parts of a cell's mitochondria. Mitochondria are responsible for consuming oxygen found within the cells and generating our body's energy. Shutting down mitochondria, then, can have devastating effects at our very cellular level, first and foremost being free radical production and rampant oxidation.
Parkinson's and other neurodegenerative diseases as well as accelerated ageing are all linked to this type of DNA damage.  You may remember from my recent article on telomeres and their role in the ageing process that accelerated ageing is triggered by DNA damage that signals a stop to cellular division.
The ADHD Connection
Experts have also noted that consumption of sodium benzoate is implicated in heightened hyperactivity in children, which can mimic ADHD behavioural symptoms. The connection is a controversial one and more studies need to be done, but there does, indeed, seem to be a strong indication that mixing sodium benzoate with certain artificial food colours can trigger hyperactive behaviour in normal children. You can imagine, therefore, what the result might be for hyperactive kids or those suffering from genuine ADHD.
With most calories in the North American diet coming from high-fructose corn syrup (HFCS) in soft drinks, is it really any surprise that our kids are hyperactive? If we're going to amp them up on ridiculous amounts of a lethal form of fructose, tossing in sodium benzoate while we're at it, how can they not bounce off the walls? It's not a surprise to me that ADHD and hyperactivity are out of control.
Carcinogen In Your Juice
Vitamin C is crucial to our health and well-being, so it makes sense that many of us would want to pick up a juice pack for a pick-me-up. The risk here is if the juice or packaging contains sodium benzoate, the sodium benzoate will react with the Vitamin C to create benzene. Benzene is a well-known carcinogen.
Many carbonated beverages and juices actually advertise that they have Vitamin C added. You'll want to take a close look to make sure that there is no sodium benzoate in there. The combination is potentially lethal, as benzene has been listed as a Class A carcinogen by the EPA. It's dangerous stuff.
The problem with Vitamin C doesn't end there, however, as this vitamin is naturally present in all manner of foods to some degree. Even trace amounts of Vitamin C in a food can trigger a reaction with sodium benzoate. This means that the possibility of benzene levels in the food we eat being many times higher than the law allows is very real.
How to Avoid Sodium Benzoate
Ultimately, the only safe thing to do is to avoid the chemical altogether. How can we do that? First off, cutting soft drinks out of your diet is of paramount importance. Avoiding fruit juices is also good. (It's better to eat fruit.) The most important aspect, however, is to avoid the consumption of processed foods.
This last one is a biggie. It's only when you're preparing your meals from scratch that you can be completely sure of what's in them. And unless you're in control of what you eat and drink, how can you be in control of your well-being?
Food, literally, for thought.