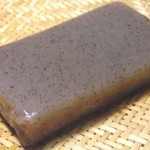 In the seemingly never-ending quest for the Magic Bullet of well-being that alleviates anybody from any responsibility for their nutritional intake, I bring you something that the Japanese call "konnyaku". In North America, you may be familiar with a closely-related derivative known by the brand name of Miracle Noodle.
If you do a Google search for konnyaku, you'll be inundated with web sites claiming that this is a highly prized culinary delicacy with nothing less than superpowers to magically keep down the calories and improve health. What's the truth here? Is it possible that the Magic Bullet does, indeed, exist?
The short answer is: No. The longer answer is a little more complex, but you'll soon see that this, like so many other wonder cures for calorie consumption, is no panacea. So, what's the problem?
First off, Miracle Noodle isn't konnyaku. A cursory look at the list of ingredients gives us: Water, glucomannan (soluble fiber), calcium additive. In other words, this isn't the ground up roots of the konnyaku plant, this is the equivalent of an extract. It's 100% processed food, plain and simple.
A subsequent look at the nutritional values gives us 0 calories. Whoa, that's cool, right? Uhm. Well, yeah, but I can get zero calories out of eating broken glass or tin cans (assuming I've washed all the food off of them). Why would pure fibre without any caloric value be good for you?
It's often touted that glucomannan aids in sugar control and other health benefits. The problem here is that it's virtually indigestible, so while it may "hoover" up all sorts of moisture, sugars and other stuff that it finds in your stomach, it also sucks up other nutrients that you need. This is a bathwater and the baby scenario. It doesn't just suck up unwanted calories, it sucks up wanted calories, too.
Before you bring up the presence of potassium, zinc, calcium, etc. in konnyaku, I need to remind you that this is in ground root flour. Glucomannan has none of these nutrients. And, even if it did, since it passes through you virtually undigested, any of the nutrients would be barely bio-available anyway.
So, as always, the point of the matter is that when you're dealing with processed foods, you're not getting the goodness your body so properly expects and so richly deserves. Rather than looking to non-calorie stomach fillers as the answer to weight loss, focus instead on a complete diet based on whole foods.
It's not rocket science. Eat right. Eat whole. Eat raw.