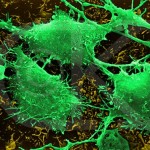 Many of us have suffered through cancer, whether it be firsthand diagnosis or that of a family member or friend. Several people in my family have gone through the experience, and I lost my own mother to cancer. It was with great interest, therefore, that I became aware of antineoplastons.
Antineoplastons are a gene-targeted approach to cancer that utilizes non-toxic peptides and amino acids. The discoverer of antineoplastons, Dr. Burzynski, found that people experiencing cancer had significantly reduced levels of antineoplastons in their blood and urine compared to people who were cancer-free. For decades, Dr. Burzynski has worked to obtain FDA approval and continue development and clinical studies of the efficacy of this treatment.
Apparently, there is politics involved. Of course, where money is concerned, when isn't there? On Vimeo, there's a movie that details the literal trials and tribulations surrounding Burzynski's work with antineoplastons. It's a fascinating insight into the world of cancer research.
You an view the movie in its entirety free until June 13 here: Burzynski: Cancer Is Serious Business. Highly recommended.