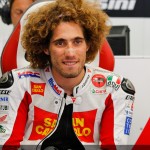 A few hours ago, Marco Simoncelli died at the Sepang circuit in Malaysia. Unless you're a MotoGP fan, you probably don't know who Marco was, but that doesn't really matter. All that matters is that Marco was here. And then he wasn't.
Marco's passing is poignant for a few reasons for me. For one, he struck me as eminently likable. He was like the slobbery dog of the paddock, wagging his tail all over the place, knocking down vases and being kind of a pain. All the while, you couldn't help but like him.
Marco was like that on the race track. He was the 250cc World Champion in 2008 and moved up to the premier MotoGP class in 2010. He had growing pains in the Big Time, crashing frequently and causing moments with other riders to the point that, eventually, he realized he needed to review how he rode.
The last few races were really strong for Marco, with his best-ever premier-class finish of 2nd on the podium at Phillip Island in Australia. He looked to be set for a long and prosperous future in MotoGP, and Gresini Racing recognized that promise to sign him again for a ride next season. Personally, I was delighted. I've always enjoyed his antics on-track, and his interviews exuded an unbridled love of racing.
This might come off sounding like a gearhead's lament, and I freely admit that I spent some 23 years in the motorcycle and automotive industries, but Marco's passing touches me in deeper ways. You see, in this race, Marco was having a grand battle with Alvaro Bautista. Perhaps not coincidentally, Bautista and Simoncelli were great rivals on track during the 2008 season in which Marco won the world championship. Simoncelli had only recently passed Bautista when his front end washed out, sending him down onto the tarmac.
From Bautista's perspective, Simoncelli's get-off was just another scuff. Bautista passed the sliding rider easily, but it seems that somehow Marco was under the bike in such a fashion that the front tire found purchase. Instead of Marco sliding straight off the track, the front end of his bike dug in and brought him right back onto the racing line in front of Colin Edwards and Valentino Rossi, who could easily be described as Marco's best friend. Both riders hit him hard; hard enough that Marco's helmet flew off. Edwards lost control and fell, dislocating his shoulder, while Rossi miraculously held onto control as his bike left the track onto the grass at some 160 kph. As he regained control, Rossi's look over his shoulder was telling.
Now to the poignance …
With the race red-flagged and the entire paddock waiting for news regarding Marco's condition, Marco let go of this mortal coil at 16:56 Malaysian time. I sat a long time digesting the news and its implications. For Colin Edwards and Valentino Rossi, I can only hope that they can forgive themselves for an outcome for which no blame could possibly be laid. I pray that Valentino can, in some way, find peace in his playing a part in the death of his best friend. I can't even begin to imagine his pain …
For me, Marco's passing brings home the point that it is only a matter of when, not a matter of if, that we depart. Some of us leave earlier and some of us may leave later, but the fact is that most of us never have a chance of knowing when that event will occur. As such, it's incumbent upon us to make the most of every moment afforded to us.
I hope you take this opportunity to make good every chance given to you and live life to its fullest. It doesn't matter what you do as long as you do it well. Pass that rider on the inside of the chicane. Draft that car down the straight so you can make the pass. Face that debilitating fear such that you come out on top.
If you have a passion and you have failed to pursue it for whatever reason, I beg you to take stock of your situation. Living intentionally is all about living with passion, living DEEPLY in the moment. Sometimes there are risks involved, sure, but just as there are risks with taking a MotoGP bike up to 300+ kph and then braking for a 70-kph corner, everyday life challenges us to face our fears and overcome our weaknesses.
We might die trying, but is that all so bad? We're going to die anyway. Instead of being afraid of dying, perhaps we should be more concerned with dying well. It's going to happen no matter what. We may as well make the most of it.
Ciao, Marco. Godspeed.