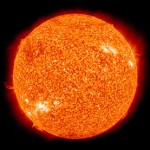 Over the last couple of years, the significance of sun exposure and how it relates to our Vitamin D levels has begun to become better understood. As well, recent studies have described how our immune function is affected by different wavelengths of UV radiation. The picture of just how much sun to get is getting to be much more complete. Moreover, what we've taken to be common sense fact is beginning to look entirely wrong.
For most of my life, I've known that we should avoid sunlight during times when it's close to its zenith. "Stay indoors between the hours of 10 and 2" was nearly a family mantra, and when you did venture out during those hours in the summer, we were warned to be sure to have on plenty of sunscreen. The sun, apparently, was our enemy. Our skin would age prematurely at best. At worst, we'd get skin cancer.
Current research is disagreeing with this age-old common sense approach to the sun. We've long known that UVA radiation is the so-called "bad" UV and that UVB is the good stuff that encourages our bodies to utilize cholesterol in the production of Vitamin D. What is less well known is that while UVA is almost equally prevalent throughout the daylight hours, UVB is filtered the closer the sun is to the horizon. This means that our optimal UVB exposure comes during those zenith hours between 10 and 2. In other words, the common sense we've been taught all these years is just plain wrong.
Similar to how we require exposure to zenith-oriented sunlight to optimize our Vitamin D production, our immune system likewise responds positively to UVB. UVB wavelengths encourage reduced inflammatory response in the body. UVA, on the other hand, encourages inflammatory response. Ideal exposure, therefore, maximizes UVB content as a means of balancing our inflammatory response.
The latest research seems to indicate that we really need to be optimizing our sun exposure to be aligned with solar noon. From an evolutionary standpoint, this makes sense. Whereas our cityscape is mostly devoid of trees, our ancestors spent most of the day under the canopy. Under the canopy, UVA exposure was limited because direct sunlight was blocked most of the day. It wasn't till the sun was mostly overhead that sunlight made its way to the forest floor. As such, we evolved to best respond to that direct, overhead light.
What strikes me as so important is the realization that many of our common sense facts seem to be patently incorrect. It's important to not just take things at face value just because somebody said it was true. People make mistakes, and that includes writers of blogs, such as the one you're reading here. As such, I strongly recommend that you keep current with what goes on in the medical and scientific communities so that you can come up with your own conclusions.
Let that sunshine in.