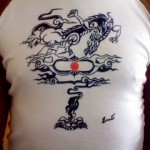 Happy New Year, everybody. May your prayers for health and happiness be answered in this most fortuitous of years. The year of the dragon is the fifth year of the Chinese/Japanese cycle of 12 signs. The dragon is the symbol of luck. Overlaid over the 12-year cycle of signs is a 5-year cycle of elements (metal, water, wood, fire and earth). This year is water, so people born in 2012 will be Water Dragons.
In Chinese/Japanese astrology, water has a calming effect on the dragon's passionate and sometimes fierce temperament. The dragon tends to be rather enthusiastic and self-involved, and the water element adds to the dragon's ability to be perceptive of others and their feelings.
When I awoke this New Year's morning, I grabbed my favourite shirt only to later realize that the dragon motif was entirely fitting for the day. How nice! I got the shirt a number of years ago at the Charanke festival (チャランケ祭り) held in Nakano every November. The festival is a celebration of Japanese indigenous Ainu and Okinawan cultures, both being remarkably different than the Japanese culture that most associate with Japan. I love the festival as a way of watching and participating in traditional Ainu and Okinawan dance and drumming.
As we drew closer and closer to the new year, I began thinking a lot about where I was in my path and where I wish to go from here. As usual, the topic of New Year's Resolutions popped up. For a pleasant change, I couldn't think of anything that I'd like to do differently. I'm exactly where I should be, doing exactly what I need to be doing in order to help myself, my Self and others to grow. So, this year's resolution is: Keep on doing what I'm doing.
I'm fit and healthy. This morning in the mirror, I noticed that some of the grey in my beard is being replaced by dark hair. Healthful living and being truly happy is turning back the clock. As it should be.
Love to you all. Find peace with yourself. Love yourself. Peace and love with and for others will follow naturally. Happy New Year and a wonderful 2012 to you all.