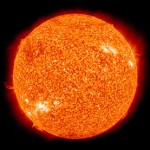 I love the sun. I don't go so far as to worship it, but I am fully tuned into our reliance on Sol as a species. Without this humble G3-class star in the Milky Way, we simply would not exist in the form we do now. At least, not on this planet we wouldn't.
During my exposure to various healing modalities, including my practice of QiGong, I came to learn of a practice called sungazing. Gazing? At the sun? Surely, you jest, I thought. Alas, no, there are people out there who think that staring at the sun is actually good for you. I won't get into arguing with these people. I'd rather let you, the discerning reader, read my opinion and come to your own conclusion. That's called learning.
First off, the general premise of sungazing being a remarkable and accessible source of personal power for humans is not at all far-fetched or ridiculous. In fact, I created my own QiGong style that essentially taps into this – for our purposes – unlimited source. That said, there are all sorts of things that can go wrong if you go staring off at the sun for even short periods of time. There are some sites on the 'net that instruct you to increase directly looking at the sun by 10 seconds/day until you reach a maximum of 44 minutes. This, people, is almost assuredly guaranteed to result in complete blindness.
In all but the most extraordinary circumstances, do NOT stare at the sun without visual astronomy-grade eye protection. Period. By "extraordinary", I mean circumstances in which atmospheric conditions filter out most of the damaging UV and infrared radiation from the sun. A normal sunrise or sunset does NOT constitute such filtering. That means that more than furtive glances directly at the sun more than likely will incur photochemical reactions within the eye that result in cumulative damage. It's simple: stare at the sun and you'll go blind. Full stop, end of story.
If you've any smarts at all, that'll have you good and concerned. So, now, the question is, how can one engage in any sort of sungazing that could be considered safe? It is possible, but you have to work within the rules of biology. And that means that you don't look at the sun directly beyond the most furtive of glances.
The idea of sungazing is to use the sun as a means of cultivating personal energy stores. This is a valid idea. Humans may glean the vast majority of their energy needs from the biosphere, but light plays a significant role in our energy systems and in how our immune system functions.
Sungazing The Right Way
The first bit of advice I'd give here is that you do not need to look directly at the sun to reap its benefits. You want to expose yourself to an ideal balance of UVA and UVB light, which means that you'll want to do your sungazing when the sun is close to its zenith, generally considered to be between 10 a.m. and 2 p.m. Personally, I face the sun and have the solar disc just outside my field of vision, ever so slightly blocked by my eyebrows. This time of year, that means I often have to tilt my head just a bit forward due to the sun being so low in the south even at zenith.
To reiterate, the idea isn't to look at the sun, the idea is to stimulate the optic nerve with a significant amount of UVB radiation, minimizing UVA and infrared exposure in the process. Typical sungazing instructions have you sungazing during sunrise and sunset, but that has your UVA and infrared exposure maximized. This is especially true when you're tempted to stare directly at the sun through a hazy atmosphere.
Stimulating the optic nerve with UVB stimulates a very healthful anti-inflammatory immune response. Stimulating the optic nerve with light balanced more toward the UVA spectrum evokes a more inflammatory response, which we generally wish to avoid. So, keep your viewing during the peak daylight hours, and keep your vision averted such that the disc of the sun is not directly in your vision. This offers the greatest optical stimulation without risk of eye damage. If you can see the sun, you're doing it wrong.
Another aspect to sungazing is to turn your palms toward the sun. Some like to reach upward with the arms, but to me this seems far too much like work. I like to relax my shoulders, arms slightly spread outward at my sides and palms facing the sun. While focusing on your breathing, concentrate on allowing the energy of the sun to enter you via your palms. The more you relax, the more likely you are to feel a slight circle of pressure in your palm. That's your palm chakra opening with your intention of energy cultivation.
In QiGong practice, the palm chakras are important points in the body for energy exchange. These points are used to great effect in many hands-on healing systems, such as QiGong, Reiki and Quantum-Touch, to name just a few. Just as important, however, are the use of these points in the cultivation of personal energy. Practitioners of QiGong, T'ai Chi and other internal practices are well versed in this practice.
Sungazing done correctly can be a wonderful practice, especially in the winter months when we tend to be covered up and not naturally getting the exposure we need to remain healthy. Done incorrectly, sungazing can result in permanent blindness. Regardless of what some internet guru tells you, avoid looking directly at the sun! If you experience any discomfort whatsoever, stop the practice immediately and seek out medical attention from a qualified and licensed practitioner.
Take care of your eyes. Avert your gaze slightly and open up your palms. Most of all, enjoy.
Much love and light,
trane