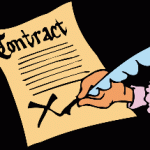 Integrity is something that I take very seriously. It very literally defines our interactions with others. It goes hand-in-hand with authenticity and, in my opinion, determines the trustworthiness of a person, business or organization.
Restaurants are in an interesting position. Their market positioning can strongly influence whether or not people choose to patronize the establishment. Personally, I go out of my way to look for restaurants that promote environmentally sustainable practices along with healthful ingredients.
Over the last few years, I have found out things about various companies that have given me pause. The first notable event was discovering that Kashi used GMOs in their so-called natural cereals. I felt betrayed to have eaten many a bowlful of their cereals while being completely ignorant of those cereals being, in my opinion, contaminated. The labels did not indicate the presence of genetically engineered ingredients.
Now, I find myself feeling distressed and betrayed once again.
Chipotle: Missing Just A Little Integrity
Chipotle used to be one of my preferred eating establishments in the US due to its "Food With Integrity" promise of being committed to "finding the very best ingredients raised with respect for the animals, the environment and the farmers". When I patronized their restaurants during visits to the States, I was impressed with their image and the promise that the food I was buying was a cut above the average restaurant. Their ingredients made no mention of GMOs. I felt safe.
Fast-forward several years, however, and it appears that food activist Vani Hari outed Chipotle for their use of various GMO ingredients and that restaurant's true integrity has been called into question. Moreover, I realize that I've eaten a lot more genetically engineered foods — yet again — than I otherwise had hoped and expected. Once again, I feel betrayed.
Thanks to Ms. Hari's efforts to expose misinformation and unworthy practices by major food companies and restaurants, Chipotle and others are now finding themselves forced to come clean about their ingredients. And while there is merit to being honest about Chipotle's use of GMOs, it's distressing to me that that honesty only came after their hand was forced. Maybe they need to change their motto to Food With Integrity Whenever Required.
These are all reasons why GMO labelling and truth in advertising must be mandatory, not optional. Informed consent can only happen when people are informed. You can only make real decisions when your data is complete. Analyzing filtered data is useless. In my case, I would have avoided Chipotle had I known they use GMOs. I was never given the opportunity to make that decision. I view a restaurant's promise of being natural and a list of healthful ingredients as being a contract. At the very least, it is a trust agreement. I feel as though I was misinformed and that the spirit of the contract was broken.
Prop 37 may have failed, but I-522 is still fair game for voters in Washington State. If people can convince one state to make GMO labelling mandatory, many other states will fall in line because of the precedent being set. Let's keep working to make that happen.