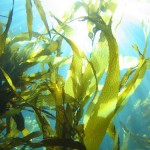 "Who wants breakfast? We have chicken and kelp, eggs and kelp and, for those on a diet, kelp and kelp." Me at breakfast today, hawking my wares to the kids
Potassium iodide has been long recognized as a proper prophylactic measure in the face of radiation emergencies. Unfortunately for folks in Japan who have recently faced a magnitude 9.0 earthquake and are also now looking at the potential nuclear meltdown of two reactor cores in Fukushima prefecture, potassium iodide is a controlled substance and not available for prophylactic use. You can get it, but only by prescription, which means you need to be sick first.
For the rest of us in Japan, therefore, we need to address the issue of iodine on our own. The best natural source of iodine is from so-called "sea vegetables" such as kelp. Kelp is a type of seaweed and is a feature of the Japanese diet. It is commonly used in making soup broths and certain types have a lovely texture, especially when cooked.
In the face of uncertain radiation exposure, I've begun an aggressive protocol. For my family, that means kelp has become a staple of the diet. Kelp at every meal. Oh, boy! 😉
On average, 20 grams of kelp contain 415 mcg of iodine. For adults 18-40 (or adolescents reaching a weight of ~70 kg), 50-60 grams of kelp/day should act as a reasonable prophylactic protocol. Children need approximately half that amount. In adults over 40, I've read that prophylactic protocols do not recommend the standard adult dosage until thyroid radiation exposure reaches 500 cGy or greater. This is because the risk of cancer and hypothyroidism decreases as adults age. Since I intend to live to be at minimum 120 years old, I have every intention of ignoring this advice and taking the regular adult protocol.
Current information about radiation risk in Japan is mixed. On one hand, the government is stating that there is no risk to humans and that only steam was released in the explosion at the plant. Contradicting that information, however, is a report that they recorded the presence of cesium isotopes in the atmosphere around the plant. That can only mean that containment has failed to at least some degree and that it's not a question of whether radiation will leak but rather how much.
The purpose of using iodine or potassium iodide as a prophylactic protocol in (preparation for) radiation emergencies is that radioactive iodine isotopes are released during uncontrolled thermonuclear reactions. If our thyroid's iodine receptors are not fully bound with healthful iodine, any radioactive iodine isotopes we ingest or inhale can bind in our thyroid and cause long-term DNA damage. The result of that can be radiation sickness, cancer and death.
To all my friends, family and clients in Japan, I encourage you to eat kelp and plenty of it. Be creative in how you prepare it. And until you know otherwise – without doubt – keep your iodine levels sufficient to protect from long-term radiation poisoning.
As an adjunctive measure, read up on other lifestyle and nutrition measures here on the site. If you're experiencing anything other than perfect health, NOW is the time to address the issues so that you can face any coming challenges from a place of well-being instead of a state of compromised health.
Be well. Kelp: It's Not Just For Breakfast Anymore!
UPDATE: There seems to be confusion about the difference in recommended dosages of prophylactic KI tablets versus my kelp amounts as defined in the article. Let me take a moment to try to clarify things.
Large amounts or long-term use of iodine are POSSIBLY UNSAFE. Adults should avoid prolonged use of doses higher than 1100 mcg per day (the upper tolerable limit, UL) without proper medical supervision. In children, doses should not exceed 200 mcg per day for children 1 to 3 years old, 300 mcg per day for children 4 to 8 years old, 600 mcg per day for children 9 to 13 years old, and 900 mcg per day for adolescents. These are the upper tolerable limits (UL).
The amount of kelp I have suggested as a dietary prophylaxis is based on this information. With 20 grams of kelp containing approximately 415 mcg of bioavailable iodine, I wanted to be careful not to cause people harm. As such, I recommend 50 g of kelp so as to cap daily iodine ingestion to  just under 1100 mcg/day.
I am well aware that this is far below the amount of KI recommended in emergency use, but if people are going to self-medicate, they need to do so at levels that are unlikely to cause harm. It's a gamble: harm from excess iodine or excess radiation … either one is a losing proposition.
Please work with qualified medical professionals in creating a protocol. Radiation is serious business, but so is stable iodine. Don't trade one problem for another.
Be safe!