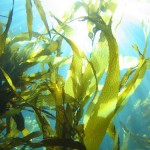 Today's message is short and sweet: You folks in North America who are freaking out over potential nuclear fallout from Japan have nothing to worry about. Nothing. Zip. Nil. Nada.
Please, stop worrying over how much kelp to take or to give your kids. If you give your kids significant amounts of iodine over the course of just a couple of weeks, you could do irreparable damage. Don't let your fear of the unknown cause you to knee-jerk your way away from an imaginary problem only to create a very real one: the harm or even death of somebody you love.
The human body is a marvel of "evolutionary engineering". It is an unimaginably complex array of systems that coordinate metabolism, immune function, DNA repair, cellular communication, and even thought. Instead of a single "thing", a human body is a community of trillions of cells. Depending on where these cells reside, they require different environments to maintain optimal health and operation.
In the case of megadosing elements such as stable iodine, the body reacts very strongly to a very little change. Iodine is such a harmless-sounding word, isn't it? We've grown up our entire lives hearing it, and many of us suffered cuts and sutures that were cleaned with iodine. The last sentence, however, is very telling. Iodine isn't harmless. If it can be used as a disinfecting agent, it has some pretty significant clout going for it.
Iodine is highly oxidative. That means that significant exposure will eventually cause the very DNA damage that you're looking to avoid by taking in stable iodine to protect yourself from unstable isotopes during a radiation emergency. Damage at all costs is to be avoided. As such, you need to strongly weigh the risks.
For folks in North America, your risks are mostly from obesity, heart disease  and diabetes. Risk from radiation emanating from Fukushima's reactors is as close to zero as you can get. Even for those of us in Tokyo, the risks from a radiation plume are minimal. Be clear on this. You have about as much risk of getting hit by lightning as you do suffering health effects from radiation emitted from Japan. Worry more about drunk drivers and texting while driving. Those are real threats.
If you're in North America, you do not need prophylactic kelp to protect from radiation!
Honest. Cross my heart. Scout's honour.
I've read that people as far away as Florida are buying up KI tablets at a ridiculous pace. I have to wonder, what are they ever going to do with them? Unless you're pretty much at ground zero, you wouldn't need more than a single KI tablet to deal with a plume passing by. A month supply of KI tablets only makes sense for those who are facing severe radiation and have no chance of avoiding it.
That just isn't the case for anybody outside of approximately an 80 km/50 mi radius of the reactors. And given the state of affairs on Sunday here in Japan, things at the reactors seem to be stabilizing. The chances of a meltdown are greatly diminishing and they've actually managed to lower the water temperature of the spent fuel storage pool in at least one of the reactors.
As I'm here in Tokyo, you might be consoled to know that I didn't eat kelp today. Or yesterday, for that matter. I went walking with my wife and daughter in the warm evening air and I didn't bother with a mask. I choose to forgo fear. Sure, I'll whip up one of my kelp soups to munch on over the next few days. I'm just not panicking about radiation exposure.
And neither should you.