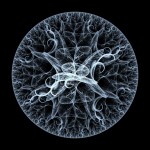 The infinite universe. Within it, the speck of human consciousness. Many consider a single person to be insignificant in its smallness.  On the grand scale of things, we stand almost imperceptibly small.
In addition to our diminutive stature, we feel absolutely cut off from the rest of creation. We stand alone, separated from God and Goodness by the sins of those who came before us, with only the barest of chances of being Saved. It sounds pretty grim to me. Get it wrong and it's a one-way ticket to nowhere. Gain access to an exclusive club, however, and you'll be alright. Yeah, that definitely sounds grim to me.
As I grew up, I experienced the perception of being an entity that is separate from everything else. It wasn't until I began serious meditation in my mid-to-late teens that I discovered the logical fallacy of that premise. It discovered that there is a lot more to us than, literally, meets the eye. We may inhabit seemingly finite bodies, but we are very much infinite beings.
The first logical failing of separation is that anything born of a universe that is entirely energy could somehow exist apart from it (or anything) in any way whatsoever. We spring forth from an infinite intention to form a bubble of consciousness, and possibly matter, that is very much aware of its relation to other so-called bubbles. These bubbles interact in various ways.
Bubbles of consciousness manifest in different ways. We label them in different ways, e.g., dark matter or dark energy, etc., yet the fundamental aspect is that these "things" all know about everything else in existence in some way, shape or form and interact with it all in meaningful ways. Some bubbles of consciousness are very, very small, called strings. Other bubbles are very large, called galaxies. And there are all manner of smaller-yet-complex organizations in between such extremes. Human beings are but one example.
Some of you reading this might have trouble associating a galaxy with consciousness, but the basis of the assertion is that All That Is in the universe is comprised of complex organizations of energy. So yes, Toto, this isn't Kansas anymore and, yes, that asteroid we call Ceres has a consciousness. Not in the same vein as we recognize in humans, of course — that would require human physiology — but I maintain that all organizations of energy in the universe, including matter, have consciousness.
Exhibit A in my defence of this position is the fractal nature of the universe. One of the most astonishing things I've experienced is looking at complex organizations of matter and seeing the fractal expressions at all scales ranging from galaxy clusters down to the microscopic. There's little, really, to differentiate the movement of the Local Group from a herd of whales. Sure, the whales change direction a little more easily, but the similarity is obvious. At least, it is to me.
When we zoom in from galaxy groups and zoom in on a solar system we see the sun and planets, looking remarkably like an atom's nucleus and its orbiting electrons. Regardless of how far out you look or how far in you go, the fractal nature of what reality presents to us is a remarkably telling characteristic of our universe. Whether you're looking at the chaotic aspects of crystal growth, fluid dynamics or galaxy formations, fractals come into play.
Fractals show themselves at the cellular level and subatomic level, too. It seems not to matter how small we try to go, either. Break apart a block of granite and what do you get? Smaller bits of granite. Get more granular and you get that granite into disparate little bits. Let's call 'em particles. Break down those particles and you get smaller particles.
We've been breaking down particles for a lot of years. Somewhere in those particles, we feel, exists Truth: The Ultimate Particle. Except that probably isn't really the case. Why? Well, for one thing, the universe isn't comprised of particles, it's comprised of energy. At some point, physical laws will reach the threshold of particleness only for us to finally have some boffin discover some other elementary something-or-other that'll start off the whole search anew.
The Truth is more beautiful and subtle than physics' quest for the Mother of All Particles, though. Simply put, the Truth is:
There is no separation between the Finite and the Infinite.
A certain Good Book describes that you were made in the image of the Creator. From a fractal view of the universe, this necessarily describes that you are the Creator. That's because fractal expression implicitly includes inheritance. Which is to say by way of example, the parent always passes on its characteristics to its children. Object-oriented programmers will get this immediately.
We often think of the Creator/Universe as being complete and the rest of us being incomplete. I can't accept that way of thinking in my view of reality. If I really do live in this universe (and I did the last time I checked), then all that I am must follow the same rules of the universe that all the other stuff does. The ramifications of this are far-reaching. Moreover, unless you want to kid yourself about Life, the Universe and Everything, it's really worth thinking about for at least a few minutes.
We are One with All That Is. We are Spiritual Beings who are currently enjoying a physical expression. In our universe, energy is immutable, meaning that it cannot be destroyed. Since we, at our most elemental aspect, are energy, it means that we have everlasting life. Right off the top, then, you need fear not. You're not going anywhere. You're going everywhere.
In my next iteration as a physical entity, I think I want to be a star. Not a rock star or a movie star. A star. A big, fiery Class O giant of a star. After all, it's better to burn out than to fade away. 😉