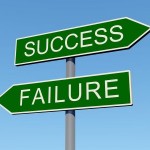 I'm a subscriber to the Abraham-Hicks Daily Quotes. Normally, I find them to be right on the money, but today's quote hit me a little off the mark. The bit that bugged me was this:
You are meant to succeed, and failure should feel bad to you. Life is supposed to go well for you—and when it does not, there is something wrong.
EEK!
I'm sorry, but I just can't go along with that. Failure is nothing more or less than, well, getting it wrong. There are a multitude of reasons why we might get something wrong. Yes, we should learn from such an incident. NO, it should not make you feel bad, hurt, sick, unworthy or anything else negative. No way, no how.
Failure should be looked at as nothing more or less than a stepping stone to success. On your journey from where you are to where you wish to end up, you may have a few steps backward as well as (hopefully) mostly steps forward. Viewing those steps backward as failure has the capacity to suck your inspiration right out of you. Don't let that happen.
When you stumble, learn from the experience and appreciate it for what it taught you. It hasn't changed your value or worth as a person, so it should NOT make you feel bad. It's an opportunity for growth and fine-tuning your approach. Bad simply shouldn't enter the picture.
Remember: On your journey, love yourself unconditionally and take your successes and failures with equal grace.